Push Around Vertical Lift
is a type of aerial work platform (AWP) or elevated work platform used in various industries and construction sites. PAVLs are typically compact and lightweight, designed for indoor and low-level outdoor tasks where workers need temporary access to elevated areas. They are manually propelled and do not have their own power source, which means they must be pushed or moved around by the operator.
Here are some common uses for Push Around Vertical Lifts:
Maintenance and Repairs: Push Around Vertical Lifts are often used for maintenance tasks such as changing light fixtures, repairing HVAC systems, or accessing high shelves in warehouses.
Construction: Push Around Vertical Lifts can provide temporary access for tasks like installing electrical fixtures, painting, drywall work, and ceiling installations in smaller spaces or at lower heights.
Retail and Warehousing: In retail environments or warehouses, PAVLs can help workers access products stored on high shelves or perform maintenance on overhead equipment.
Facility Management: Facilities managers use Push Around Vertical Lifts to inspect and maintain building components like ductwork, plumbing, and lighting.
Electrical and Plumbing Work: Electricians and plumbers use PAVLs to access ceilings and walls for installations and repairs.
Stock Picking: In warehouses or distribution centers, Push Around Vertical Lifts can be used for order picking tasks, allowing workers to access items stored on high racks.
Event and Exhibition Setup: Push Around Vertical Lifts can be handy for setting up lighting, signage, and decorations at events, trade shows, and exhibitions.
Indoor Renovations: During indoor renovation projects, Push Around Vertical Lifts can help workers access high areas for painting, ceiling work, or installing fixtures.
Inventory Management: Push Around Vertical Lifts are used in inventory management to reach and count items stored at elevated locations.
Cleaning and Janitorial Services: Janitors and cleaning crews can use
Push Around Vertical Lifts
to access high areas for cleaning tasks in commercial buildings.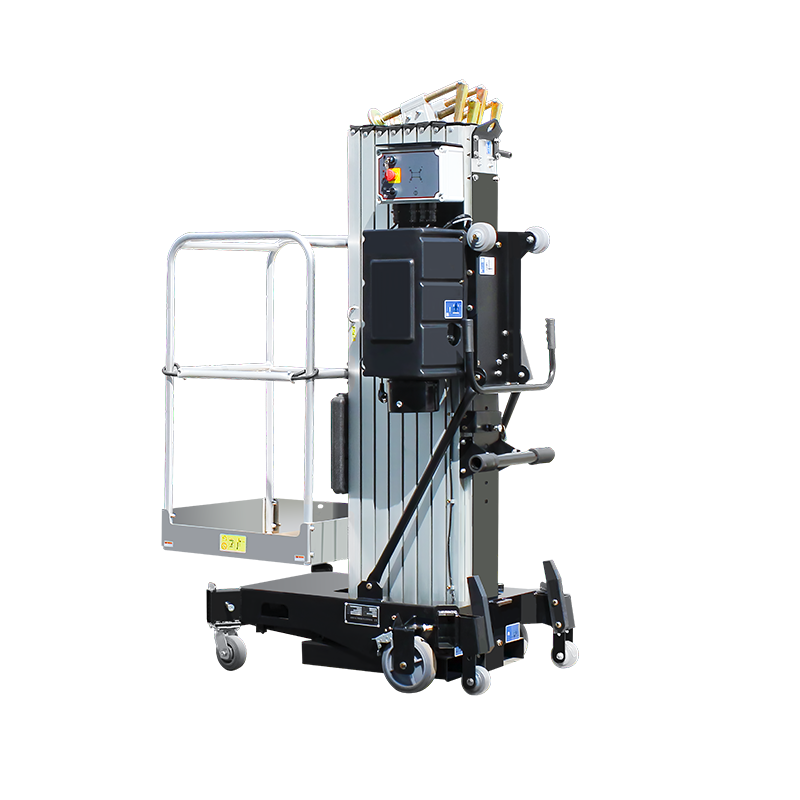 GTWY1 SINGLE MAN PUSH-AROUND VERTICAL LIFTS
1.Outrigger interlock
2.Deadman switch
3.AC power on platform
4.Emergency stop Button
5.Easily loading to pickup truck
6.Emergency Lowering system
7.Leveling bubble